Air Duct Cleaning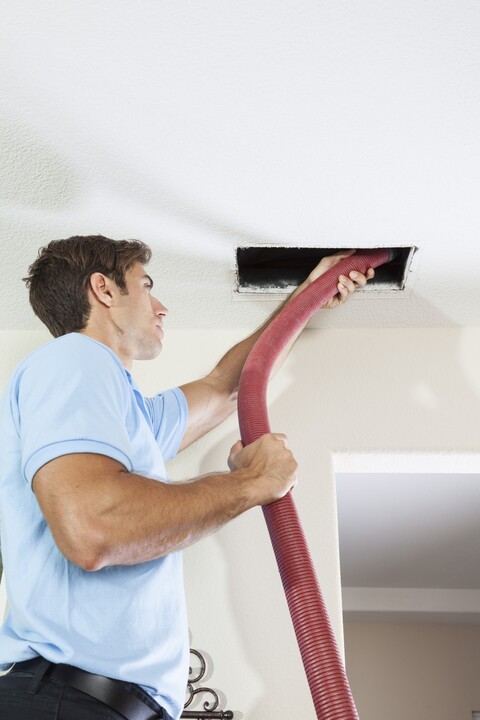 $149 Air Duct Cleaning Promotion
One Supply Vent Cleans All Vents per Zone
expires 12/31/2023
---
Call for a FREE Quote
---
★★★★★
"They were on time, and did a great job"
Philip M.
Air quality plays a large role in the health of a building. Are you concerned about the air quality in your home or office? If so, it's probably time to have your air ducts cleaned. Certified Green Team specializes in air duct cleaning for local homes and commercial buildings. Your air ducts serve the important role of filtering debris from the indoor air in your living and working environments, including dust, mold spores, and other allergens.
Left unchecked, these particles travel throughout your home or workspace, where they are inhaled repeatedly. Prolonged exposure to contaminated air can lead to exacerbation of asthma and allergy symptoms, headaches, nausea, and other ailments. Additionally, when filters and ducts become clogged with debris and other particles, airflow is reduced, taxing your air conditioning, heating, and ventilation system. Since 2016, Certified Green Team has worked to improve air quality and HVAC system efficiency by providing superior air duct cleaning services.
Residential Air Duct Cleaning Services
The air quality improvement specialists at Certified Green Team can handle any residential air duct cleaning project, whether large or small. Our mission is to improve indoor air quality and overall health for local families, and we take this job very seriously. Our services are affordable and accessible so that we can assist all residents with air quality improvements. Call (470) 466-8269 and ask about our special pricing for regularly scheduled maintenance cleanings. If you need a contractor who provides consistently reliable residential air duct cleaning services, Certified Green Team is the right choice!
Commercial Air Duct Cleaning Services
When you call Certified Green Team for your commercial air duct cleaning needs, you will be working with a team of air quality specialists who care about the health of your employees and guests. We have been cleaning local commercial air ducts for more than 7 years and will be happy to assist you too. Simply call (470) 466-8269 for a free estimate to clean and maintain your air ducts. Save time and money by utilizing our commercial air duct maintenance program, in which we'll take care of your cleanings on a semi-annual or annual schedule, depending on the unique needs of your building.
Quality Service You Can Count On
Certified Green Team has spent 7 years building a solid reputation for providing top quality services and superior customer care. We are accessible and professional and will be happy to provide a list of satisfied customers for references. Instilling peace of mind before we begin each project, and long afterward, Certified Green Team is proud to be one of the area's leading duct cleaning contractors.
For enhanced air quality and lower energy bills, trust Certified Green Team to deliver an excellent duct cleaning. Our dedication to excellence and our customer satisfaction guarantee make Certified Green Team a wise choice for residential and commercial duct cleaning.
---
Call for Fast FREE Quote
---